Does anyone else hope for a quiet ride when they get into an Uber, Lyft, or any other car service? I know I do. Usually the last thing I want to do is make an attempt at small talk with my driver.
But there was something about Latonya Young that Kevin Esch didn't mind. The two exchanged life stories after Young picked Esch up from the Mercedes-Benz Stadium in Atlanta, Georgia and little did she know that their conversation would change her life.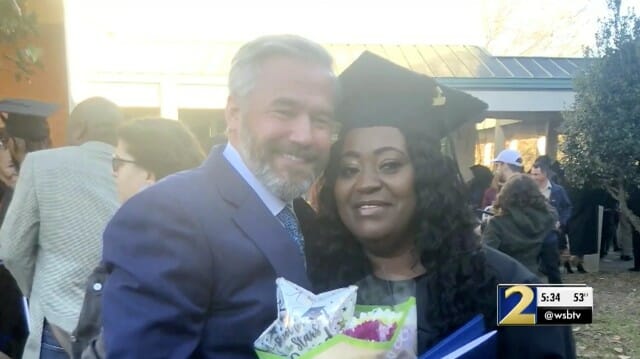 The encounter happened a year ago when the 43-year-old mother of three worked as a hair stylist and Uber driver. She told her passenger how when she was 16 years old she dropped out of high school to raise her first son.
Despite dropping out of school, she worked hard and earned her GED, went to cosmetology school, and enrolled in a program at Georgia State University, but she had to put a hold on her degree at GSU when she fell behind on payments after she was injured in a car crash.
"Every time I got ready to pay the money, my kids needed something. I said, 'OK, I'll just wait."
But then she picked up Esch from the Mercedes-Benz Stadium and everything changed.
After the ride, Esch left Young a generous tip, $150. At the urging of her Uber passenger, the mother of three planned to use the money to go back to college.
A few days after she first met Esch, while she was on her way to GSU, she received a text from her passenger.
"And the message stated, 'You can register for classes now.' I was literally blown away. A stranger has never done that — or done anything like that — for me," Young told WSB-TV.
Esch paid off Young's GSU balance.
While Young was extremely grateful for the money, she told The Atlanta-Journal Constitution, it was her passenger's belief in her that motivated her to return to school and graduate.
"Nobody's ever done anything so nice to me in my life," she said.
Esch has stayed in Young's life ever since he paid off the nearly $700 balance. Throughout the months, Young kept Esch, who doesn't have any children, updated on her grades. And when the time came, she invited him to her graduation.
"Just trying to do everything to make sure he knows I appreciate him."
Young graduated with an associate's degree in criminal justice and will return to class in January to pursue a bachelor's degree. Once she graduates she hopes to become a federal probation officer and eventually go to law school to become a defense attorney.
Share this story on Facebook if you think we all need to believe in someone like Kevin believed in Latonya. Imagine what we could accomplish!
Join our list
Subscribe to our mailing list and get interesting stuff and updates to your email inbox.