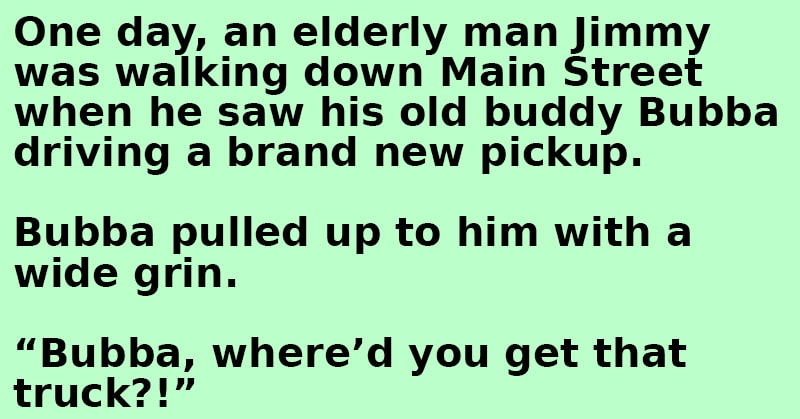 One day, an elderly man Jimmy was walking down the main street when he saw his old buddy Bubba driving a brand new pickup.
Bubba pulled up to him with a wide grin.
"Bubba, where did you get that truck?!"
"Mary gave it to me," Bubba replied.
"Did she give it to you?" I knew she was kinda sweet on ya, but a new truck?"
"Well, Jimmy, let me tell you what happened. We were driving out on County Road 6, in the middle of nowhere. Mary pulled off the road, but the truck in 4-wheel drive and headed into the woods."
She parked the truck got out, threw o-ff all her clothes, and said,
'Bubba, take whatever you want.'
So I took the truck!
"You are a smart man, Bubba!" These clothes woulda never fit you."
LOL!!
Hope this joke will make you smile! Have a nice day!!
L.Jimmy Needed To Go To The Restroom.
One day, little Jimmy needed to go to the restroom at school, so he raised his hand.
The strict substitute teacher asked him to say the full alphabet before letting him go.
"But Miss, I am bursting to go," said Jimmy.
"You may go, but after you say the full alphabet."
"A-B-C-D-E-F-G-H-I-J-K-L-M-N-O-Q-R-S-T-U-V-W-X-Y-Z," he said.
Catching his mistake, the substitute asked, "Jimmy, where is the 'P?'"
He answered, "Halfway down my legs, Miss."
LOL!!
Hope this joke will make you smile! Have a nice day!!
Under article ad unit (above the comment section):
Join our list
Subscribe to our mailing list and get interesting stuff and updates to your email inbox.