The holidays are near, which means you'll probably either be giving or getting some new tech toy this year. But before you wrap or unwrap a new device you might want to think twice about what, or should I say, who you're bringing into your home.
A family in Tennessee was left frightened after someone hacked into their Ring camera and began taunting their eight-year-old daughter.
"My daughter could've been changing in her room…It did not take them long at all to figure this out," Ashley LeMay told FOX 17 News.
Prior to purchasing a Ring camera, LeMay said she researched the product and felt it was safe, especially since another mother had recommended it. But four days after she had installed it in her girls' bedroom so she could check in on them while she worked a night shift as a nurse, she found out it wasn't as safe as she thought.
"First, what happened I was in the hallway I thought it was my sister because I hear music. It's like 'tiptoe through the window.' So I come upstairs and I hear some banging noise and I am like 'who is that'," LeMay's eight-year-old daughter Alyssa told WMC Action News.
Alyssa proceeded to look around her room to find the source of the voice, but was unable to determine where it was coming from.
As she searched the voice taunted her, encouraged her to destroy her room, and said they were her best friend. Alyssa screamed.
LeMay's husband, who was home at the time, entered the room and the voice stopped talking.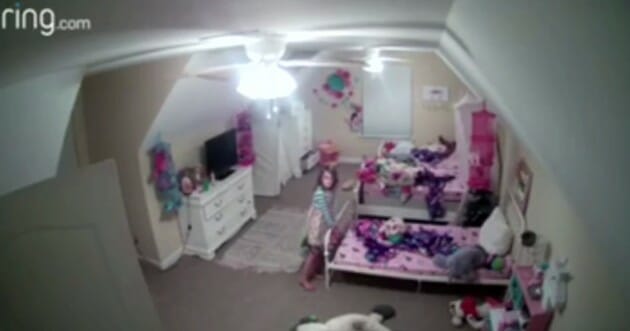 The entire experience left the family alarmed. Now the camera sits unplugged, waiting to be returned.
Unfortunately, this isn't the only instance where a family has been violated by someone who has hacked into a Ring camera.
Recently, someone harassed Adam Krcilek and his daughter while the two got ready in the morning. When Krcilek realized the voice was coming from his security camera he confronted it.
"Once I finally realized, I was like, who is this person talking to us and my daughter? It would have been other choice words if she hadn't been down here," he told WOWT.
Another time a woman became frozen with fear when someone began talking to her and her puppy.
Ring suggests users utilize the two-factor authentication.
In all of the instances, the users were not using Ring's two-factor authentication, something which Krcilek believes should be mandatory.
Since the alarming incident, LeMay has taken several precautions to protect her family.
In a statement to WMC Action News, Ring claimed the incident wasn't the result of a security breach, but suggested it was due to users' lack of security precautions.
"Due to the fact that customers often use the same username and password for their various accounts and subscriptions, bad actors often re-use credentials stolen or leaked from one service on other services."
Has this ever happened to you? Let us know on Facebook and share this in case anyone you know has a Ring camera because they could become the next victim.
Join our list
Subscribe to our mailing list and get interesting stuff and updates to your email inbox.